March 2, 2015
We are a leading UK manufacturer of Dinghy Launching Trolleys
We manufacturer our own design of folding dinghy launching trolley available direct to the public, this ensures that you the customer receives the very best deal available. So whether its our standard dinghy launching trolley, or our larger elite dinghy launching trolley with or without boat rollers or large side supports you will not get a better deal elsewhere. Dinghy Launching Trolleys from only £155, Large Dinghy Launching Trolley, Kayak or Canoes we have Launching Trolleys, Carts and Wheels to suit most boats, Jetski Launching Carts-Trolleys also supplied.
Our Folding Dinghy Launching Trolley comes in two sizes, the smaller model is the "Swift" capable of carrying vessels boats up to 12 feet long and 120kg capacity and then we have the "Elite" dinghy launching trolley which will carry vessels up to 16 feet long and capable of carrying up to 180kg, Anglesey Marine Supplies For Launching Trolleys, Dollys Wheels And Carts.
Both dinghy launching trolleys are constructed from Premium Grade fully galvanised steel and fitted with protective non marking snubbers. We use pneumatic tyres held on with Bzp Lynch Pins on both models to ensure a smooth ride over sand or shingle. All upright and vee snubber supports and handle are fully adjustable on both models as standard. Another unique feature on our dinghy launching / launch trolleys is the front bars are pre-drilled ready to accept a pressed steel hitch should you require off-road towing assistance.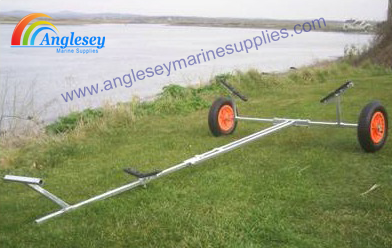 The "Swift" Dinghy Launching Trolley
Our Swift dinghy launching trolley is capable of carrying vessels up to 12 feet long and 120kg, fully galvanised construction, fully adjustable design, the dinghy launching trolley folds away easily in seconds to fit into most family cars. Built to last.
£165 £155 plus postage
Posted by Phil Beardmore.